Full setup and dev plan presentation
---
Hi!
It's official: Cosmic Void has entered the development phase!

As such, we will now be sharing the design decisions, along with the planned roadmap.

Our design principles
These will upheld throughout the entire development.
Design pillars
Retro style metroidvania with modern elements

PC have mice and controllers have joysticks. There is no reason to not be able to aim precisely anymore.
It has to feel new, yet familiar.
As such, it will have a vast interconnected map.

Tense narrative with multiple endings

The environment gets oppressive as the story progresses, urging the player to leave ASAP
3 endings; Bad, Neutral, Good.
No over-convoluted requirements for the Good End; no locks on endings!

Strong female character? Is that even a pillar it should be a standard
Game loops
The main game loop consists of these events, each being a reward in itself for different kinds of players, some being actual in-game rewards as well.

Explore
Fight monsters
Get upgrades
Unlock new area
Magic moments
Discovering an upgrade and realizing it's the key to open new areas
Finding shortcuts between areas
Roadmap
Currently, most of the development is focused on gameplay features. Starting early February, work will also begin on mapping.
Here's the current list of features being worked on: (some have already got some progress done)

Platformer physics - 80%
GUI System - 15%
Map display
Inventory system
Equipment system
Upgrade system - 5%
Collectibles
Cutscene system
Dialog boxes - 50%
Room persistency
File system
Level editor
The current priority is the GUI system, along with text boxes.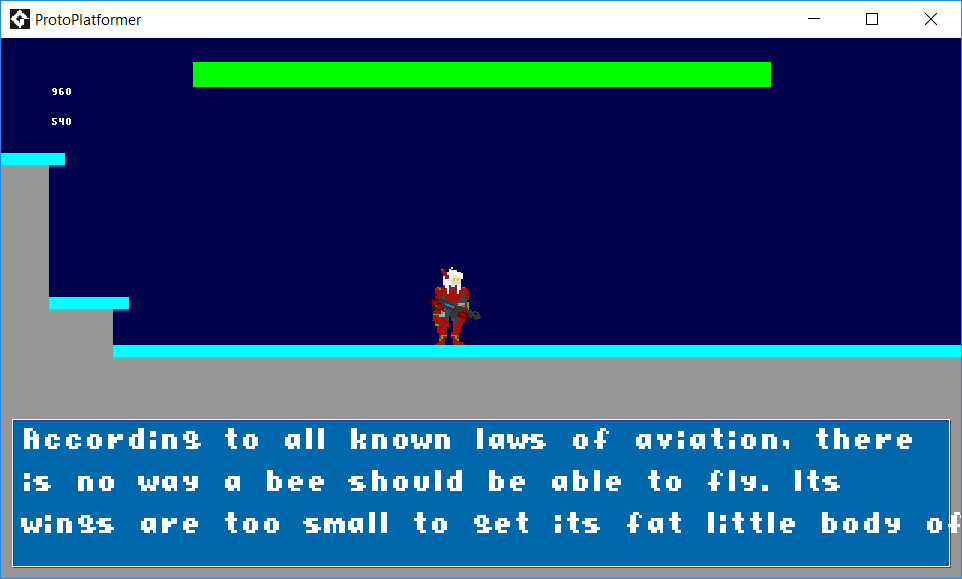 I think we're making good progress on that end. 👍

Files
CosmicVoid v0.0-PROTOTYPE.zip
1 MB
Jan 13, 2019